Welcome Kelvin
A New Addition to the Longevity Graphics Team
We're very excited about our growth here at Longevity Graphics over the past two years. We have welcomed many new faces to our team – the most recent being Kelvin – a new Web Developer at Longevity Graphics.
To help introduce him to our clients and followers, read below for a brief Q and A.
1. What are your hobbies and interests?
In my spare time, I like to listen to music and watch movies/TV shows at home. I also like to go camping, crabbing, and hanging out with friends on the weekend.
2. What do you bring to Longevity Graphics?
I have worked as a web developer for a few years now. During this time, I have had the opportunity to work on many interesting projects. My goal with each project is to create a website that the client is proud to share with their friends, family and of course, clientele.
3. Why did you get into the industry?
I chose to pursue Computer Sciences in University because I knew I was passionate about working with computers. The more I studied computer programming, the more I loved it. It's like playing a game – you are instructing the computer to follow your command to achieve the desired goal.
4. What is your favorite part of the work you do?
My favourite part of the work I do is being able to dive into interesting projects. I like to keep myself up-to-date with modern web technology to always improve my programming skills.
5. Any words of wisdom that you would like to share with our readers?
You're never too old to learn.
To connect with Kelvin, email him directly at

[email protected]

.
Our team is made up of local, industry experts that help our clients achieve real results online. We specialize in online marketing services and website design and development.
If you are looking to increase revenue from online leads, get in touch with us. We offer a 1-Hour FREE Consultation on all of the services we provide.
At one time or another, every business owner has needed web design services. Around this time, they probably began doing research and looking into the best website designer in their area.
In this blog post, we will discuss the most reliable and trustworthy review and ranking websites out there. These are the first places you should look when seeking out the Best Website Designer in Coquitlam.
Google Reviews
Google has the option for people to write reviews about the places they've visited on Google Maps. Google Reviews allows your business to show up in the "Map Pack". It displays the business name, link to its website, the address, phone number, and the total number of Google Reviews.
Three Best Rated
Three Best Rated is a website that helps you to find the best businesses in a specific category within any city. They display the top company's information, including Name, Email, Phone and Website URL right on their website.
YELP – The Best 10
YELP's The Best 10 is a search function within the review website that allows you to see The Best 10 in a specific category within any city. YELP uses automated software to recommend the most helpful and reliable reviews for the YELP community among the millions that they receive.
Are you looking for the Best Website Designer in Coquitlam? Look no further!
Longevity Graphics is rated as the Best Website Designer in Coquitlam on Google Reviews, Three-Best Rated, and Yelp's The Best 10.
View our Website Design Package Options or Contact Us to schedule your FREE 1-Hour Consultation, today!
Longevity Graphics is a leading web marketing agency that specializes in website design for local businesses in Greater Vancouver. We have launched hundreds of websites for top producing companies and we're proud of our long list of loyal clients. Our specialized local experts are committed to providing exceptional customer service.
If your business operates in the construction and trades industries, then you understand that your reputation counts for everything. Traditionally, word of mouth was the best and most direct pipeline to new business. However, these days, that pipeline is likely to come through cyberspace. That means a professional Construction Website Design is essential in order to attract new clients.
No industry has been immune to the technology era. But few industries have seen the huge discrepancy between leaders and laggards as in the construction and trades industry. In other words, many construction companies have been slow to invest in good construction website design.
Fortunately, these same companies, which have relied on word-of-mouth advertising for so long, can still convey that hard-earned reputation and reliability within an online environment, without a major investment.
What are Qualities of Good Construction Website Design?
A Winning Portfolio
A picture, as they say, is worth a thousand words. In web design, the goal is to tell a compelling story in as few words as possible. You want to provide visitors with enough information to satisfy their curiosity without overwhelming them. A strong portfolio is a great way to showcase your past projects.
Videos for a Dynamic Presentation
A professionally produced video will help introduce your business and the competitive advantage of your services to each viewer who visits your website.
Powerful Testimonials
Talk is cheap. A section for testimonials or customer reviews will further solidify your credibility in the mind of a potential client. Your testimonials will not only communicate your expertise but also educate visitors on the value you provide to your clients.
A Proud Company History
It's a great idea to include a detailed company history to highlight your reliability and credibility.
Clear Calls to Action
Your contact information should be clearly displayed throughout your website in the header, footer and on the Contact page. Include clear calls to action to motivate viewers to inquire.
About Longevity Graphics
The Longevity Graphics team has been working with various types of construction and trades businesses for over 16 years. We're passionate about helping your business and we understand the intricacies of the industry you operate in. We are real people, with a real passion for what we do. Contact us today to learn how we can help you with Construction Website Design!
We understand the importance of making a good first impression – especially as a real estate agent. But, you won't get the chance to make a good first impression in person unless potential clients first discover you.
In the past, this may have been through an advertisement you placed in the local newspaper or through a Canada Post mailout.
The Importance of Having a Real Estate Website
Now more than ever before, home buyers are looking at houses for sale online. A study by Google and the National Association of Realtors found that over 90% of home buyers search for properties online. That translates to a huge potential for online leads. If you don't have a personal real estate website, then you're missing out.
We recommend hiring a professional website designer who has previous experience building real estate websites.
Qualities of a Good Real Estate Website
Modern
Professional
Visually Appealing
Easy to Navigate
Generating Leads Online
When it comes to lead generation, it is important to begin with the end in mind. What exactly does a "lead" mean to you? Defining this from the start will make your testing and analytics goals even clearer throughout the process. It will help you determine exactly what actions you want the user to take as they progress through each stage of your sales funnel. Your first step to generate leads from your real estate website is to get traffic.
Traffic Sources that Generate Leads
SEO
Google Ads
Social Media Marketing
Facebook Ads
The next step is to ask for the leads. Our realtor lead-generation forms are the best in the business at turning your website visitors into leads. How do they work? Fairly-simple, they ask people to input their contact information, based on a tempting call-to-action strategy.
While technology is effective at capturing leads, the human touch turns them into clients.
Longevity Graphics designs and builds the best real estate websites for realtors, agents, and brokers. We have launched hundreds of websites for top producing companies and we're proud of our long list of loyal clients. Check out some of the real estate websites we have designed.
For more information, please contact us today! We offer a FREE 1-Hour Consultation.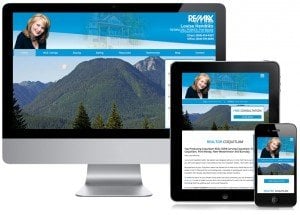 Spring Into Action –
Mobile Optimization Coquitlam
Global data reveals that mobile devices continue to ingrain themselves into consumers' daily lives. Here are some interesting statistics about mobile device usage:
80% of global consumers own a smartphone
50% of global consumers own a tablet
85% of Google searches are performed on a mobile device
The fact is, if you are not optimized for mobile you're ultimately losing sales.
Navigating with a mobile device on a website that is not optimized for mobile use can be very frustrating, and most people today do not have the patience. Research shows that 57% of mobile users will abandon your website if it takes more than 3 seconds to load. On e-commerce websites, 30% will abandon a purchase transaction if the Shopping Cart isn't optimized for mobile devices.
Not to mention, Google and other major search engines are giving you the hint, too.
"If you haven't made your website mobile-friendly, you should." – Google
What is Mobile Optimization Coquitlam?
A desktop version of a website can be difficult to view and navigate on a mobile device. It may require the user to zoom in order to read the page content. In comparison, the mobile-friendly version is readable and immediately usable. This is demonstrated in the image to the right.
The Mobile-First Index
In late 2016, Google began testing its mobile-first index. This index primarily looks at the mobile version of your website for its algorithm and ranking signals, falling back on the
desktop version when there is no
mobile version available.
If your website is not mobile-friendly, that will have an impact on where your website appears on the Google search results page.
Regular Price $1250
Spring Promotion $625
(Available until May 15, 2017)
If you are looking for an expert in Mobile Optimization Coquitlam, then collaborating with Longevity Graphics is the right choice for your business. Contact Us Today to learn more!
Website Design Coquitlam
Does website design really matter? Despite your skepticism, studies show that a well-designed website will generate more traffic and increase conversions. Ultimately, this increase in conversions means more sales for your business.
How can website design impact the success of a business? There are many reasons why a well-designed website will attract your ideal customer and prompt them to convert on your website.
Are you a business owner in need of Website Design Coquitlam? Continue reading to learn how Longevity Graphics can help you.
Website Design Coquitlam
Navigation
The most important aspect of a website is the navigation. Website navigation typically includes a navigation bar or a list of different pages on the website. Good navigation should be easy to find and comprehend. In most cases, over-simplified navigation allows for ease of use for a wide range of users.
Branding
It is important for your clients to be able to recognize your company's brand in all its forms of communication. When elements of the visual communication changes, it can create confusion. When designing a new website, your company's logo, brand colours, brand messaging, and imagery must be used.
Trust
Trust is incredibly important on the web. It is often the limiting factor that determines whether a user will perform a desired action, like filling out a lead form or making a purchase.
Content
Most users don't read each web page they visit; rather, they scan each page instead. Eye tracking studies show that most users scan computer screens in an "F" pattern. Because of this, effectively designed websites will display information in order of importance (left to right, and top to bottom).
Some effective tactics include using:
Headlines
Sub-headlines
Relevant images
Numbers and bullet points
Sans Serif fonts
Search Engine Optimization
Search engine optimization is a way for your website to get traffic from the results pages on major search engines – for free! How does it work? Visit our Search Engine Coquitlam page to find out.
It's easy to create a beautiful and functional website, simply by keeping these elements in mind.
Are you looking for Website Design Coquitlam services? Longevity Graphics can help! View our Pricing Packages or Contact Us to schedule your FREE 1-Hour Consultation, today!
Are you thinking about starting a business in Port Coquitlam? We've gathered some resources to help you get started.
Visit the City of Port Coquitlam Website
The City of Port Coquitlam website is a great place to begin when thinking about starting a business in Port Coquitlam. The website has many resources that will help you, prior to 'opening your doors'. Click here to visit the City of Port Coquitlam's Starting a Business page.
Get to know the area… and your competition
If you don't already live in Port Coquitlam or the Tri-Cities area, it is a good idea to spend some time in the city. This will allow you to get a sense of the successful businesses that are currently operating in the area – including businesses that you will be in competition with. If your business is going to have a store front, you can use this time to search out potential areas for your business to operate.
Create a Website and Social Media Pages
If you're thinking about starting a business in 2016 – you MUST have a website and social media pages. There is a vast amount of competing businesses in Port Coquitlam and the surrounding areas.
In order to be discovered by potential customers online, you must have an experienced, knowledgeable online marketing company who will be able to optimize your website and social media pages for optimal rankings.
Your online marketing company should be able to:
Help your website gain top position in search result lists
Perform keyword research to discover vital search combinations for your business
Perform meta and title tag development
Establish HTML code optimization
Perform inbound link building
If this sounds like something that you will need help with, contact Longevity Graphics for a FREE 1-Hour Consultation. We specialize in working with local clients and helping them rank for their industry specific keywords.
Are you considering outsourcing your website design?
Below are some Pro's and Con's of hiring a local web designer vs. outsourcing your web design.
Pro's of hiring a local web designer:
Personalized, one-on-one service
It's easy to get in contact with your web designer if you have any questions
You know exactly who will be working on the design of your website and social media pages
Con's of hiring a local web designer:
Well, we sure can't think of any con's!
Additional Resources
Responsive Design – What is it?
Responsive design is having a website that is coded so you don't have separate mobile, tablet, and PC versions of your site: the site adapts to whatever size screen it's being displayed on. With a responsive web design, visitors will get all the content they want, in a format they can read. If you don't have a mobile site at all, 61% of visitors will return to Google to find a site that is easily readable.
Moving forward, it will be extremely critical that your website provides mobile users an easy-to-use experience as this directly impacts the growth of your business. Despite the impressive points shown below, many businesses still do not yet have responsive friendly websites or communications. Here's why we think you should upgrade to responsive today:
1) Mobile usage is booming.
• Over 20% of Google searches are performed on a mobile device.
• The average amount of time spent on mobile / tablets is about 3 hours a day.
• Almost 60% of all website traffic is from mobile devices
• 25.85% of all emails are opened on mobile phones, and 10.16% are opened on tablets.
• 80% of internet users own a smart phone.
2) Higher conversion rates & happy visitors.
A well structured and user-friendly responsive website will drive more sales and also make it easier for visitors to find / share information. Responsive design helps modern websites appeal to modern users. According to a calculated figure, 5.1 out of the 6.8 billion-world population are smart phone users. If a user lands on your website and is confused or doesn't see what they are looking for, there's a 61% chance they will leave immediately and go to another website (most likely a competitor). It's also said that if they have a positive experience with your mobile website, a user is 67% more likely to buy a product or use a service.
Mobile users that find your business online have a conversion percentage nearly three times higher than the same search done on a desktop or laptop. Why? Mobile users are on the go. They grab their device and have a specific intent in mind. Mobile searchers are buyers, assuming you can meet their needs. With 80% of consumers regularly using their smartphones to shop online – this isn't something you want to miss out on.
3) Search engine optimization.
Responsive development is Google's recommended approach for mobile web design. Responsive websites will perform better in search rankings because they provide a better user experience than sites that are not mobile friendly.
Going responsive makes it easy for search engine robots to crawl and index your website, ensuring that your page rankings are as high as possible. If you're sharing links (especially through social media) to your website and it's responsive you will experience improved brand perception, less bounce rates and boosted website conversions. If you don't have a
responsive website, not only will you have a lot of frustrated visitors but Google will interpret the high bounce rate as a sign your website isn't offering relevant content, which is likely to drop your rankings. Mobile phones have a separate Google search algorithm than desktop searches too; so you will want your rankings high for both desktop and mobile searches. Most people do their browsing on mobile and complete their transactions on desktop, so the marriage of the two and having a responsive friendly site is important for complete conversions.
Are you ready!?!
As you can see responsive web design plays an integral role in the level of success of your business and search rankings. Switching over to responsive web design will be a big challenge, but it will prepare you for the future and put you a step ahead of your competitors.
If you are looking for an expert in Responsive Website Design then collaborating with Longevity Graphics is the right choice for your business. Contact us today to get a no obligation quote for your next responsive web, SEO or marketing project.

Responsive Web Design
Responsive web design is the newest online craze.
Nearly every new client of ours asks us if we can build them a responsive website, and we don't blame them. With the sheer number of different media that can access the internet in today's society, it is important to have a website that can be accessed by users on their computers, phones and iPad alike.
A large chunk of traffic is generated through hand held devices and if a business or website owner does not have a site that is compatible with all media, then they will be losing out on business.
What is responsive web design?
A website that has been built using responsive web design will be able to operate on any device that can access the internet, without losing its form and becoming unusable.
Previously, the only way to enable mobile access to a site was to create a specific mobile site; this technique has merit, but responsive web design is a visually appealing alternative.
Adaptable To the Device
Web designers are currently plagued by the constant invention of new mobile devices. Every year new technology is created that is no longer compatible with their previous work. Responsive web design solves this problem by creating a malleable page format that simply conforms to the screen size of any new device. This way designers don't have to constantly go back and make changes to their mobile sites because responsive websites can do the adaptation themselves.
One feature of responsive web design is that it works across all platforms, while separate mobile sites need to be tweaked for different devices. A mobile site will not perform the same way in Google chrome as it will in Safari, and for novice developers this can be troublesome to deal with.
However, if you can create user friendly mobile sites, they will often be more aesthetically pleasing because they won't be adapting their screen size.
So, How Does Responsive Web Design Work?
The way that responsive web design works, is the screen literally grows and shrinks depending on the screen it is being used on. This is fantastic technology because the website literally knows what it is being viewed on, and behaved accordingly.
The drawback to a responsive website is that sometimes a website might expand or shrink in a way that doesn't line up with your vision for your website.
Who Needs Responsive Web Site Design?
When thinking about adding a responsive design to a site that currently doesn't support mobile devices, or is using a mobile site that they want to switch over, it's important to look at the individual's business model:
If you look at your analytics, do the figures show that the site is attracting mobile users?
If the site is already working well on mobile with solid conversion rates, then maybe the client doesn't need a responsive web site after all.
Other factors to consider are how the site looks aesthetically when viewed on a mobile device. If the site completely loses shape and becomes either unpleasing to look at or difficult to read, one might consider having the site redone responsively.
Success Online Coaching- A Case Study
We built a responsive site for Success Online Coaching recently, and we are proud of the results.
It was important for Success Online Coaching to have a site that could be accessed through mobile because their business model relies almost entirely on online sales. They also have an app that provides access to their website, so it was important that they had an aesthetically pleasing site for customers to navigate.
The SEO Project Details
The Last Door contracted Longevity Graphics 2 years ago to help with organic SEO, Paid Advertising optimization, and landing page creation/onsite conversion optimization.
The goal of the original contract was to increase traffic by 200%. We were able to blow that goal out of the water with a 500% increase. Needless to say, Last Door is very happy with the results, and we look forward to continuing working with them on their online presence and organic SEO results.
See below for the amazing SEO review provided by Last Door
About the Last Door
The Last Door is a non-profit organization that has been working with youth, families and adults for almost 30 years.
"The provision of the therapeutic environments where individuals and families experiencing addiction can gain support and guidance to restore themselves to mental, spiritual, physical and emotional health."
Here is the SEO review:
"To Whom It May Concern,

I am writing a letter of reference for Longevity Graphics, they have managed Last Door Recovery Society's SEO Optimization and Google Ad Words/Organics Account for two years for a website we had designed 5 years ago from a different web designer. Their services have been professional, efficient, productive and beneficial to the organization.

Since the website www.lastdoor.org was optimized for Google and Bing, the number of unique hits to the website rose 500%. Last Door is listed on page one for our target market in Google Organics, while our paid Google Ads are receiving maximum exposure with "call to action" per click.

Last Door intends on renewing its annual monthly maintenance contract with Longevity Graphics and has requested a quote from them to redesign our entire website due to their creative solutions for optimal web traffic. Last Door Recovery Society operates residential treatment programs for individuals with substance abuse issues for 30 years and relies on the internet for informing the public of our services to ensure our programs are utilized every day.

Giuseppe Ganci
Director of Community Development
Last Door Recovery Society"
Thanks again Guiseppe for your kind words!